OFFERS
07 March, 2017 - 31 March, 2017
We are haapy to announce the WINNERS are .....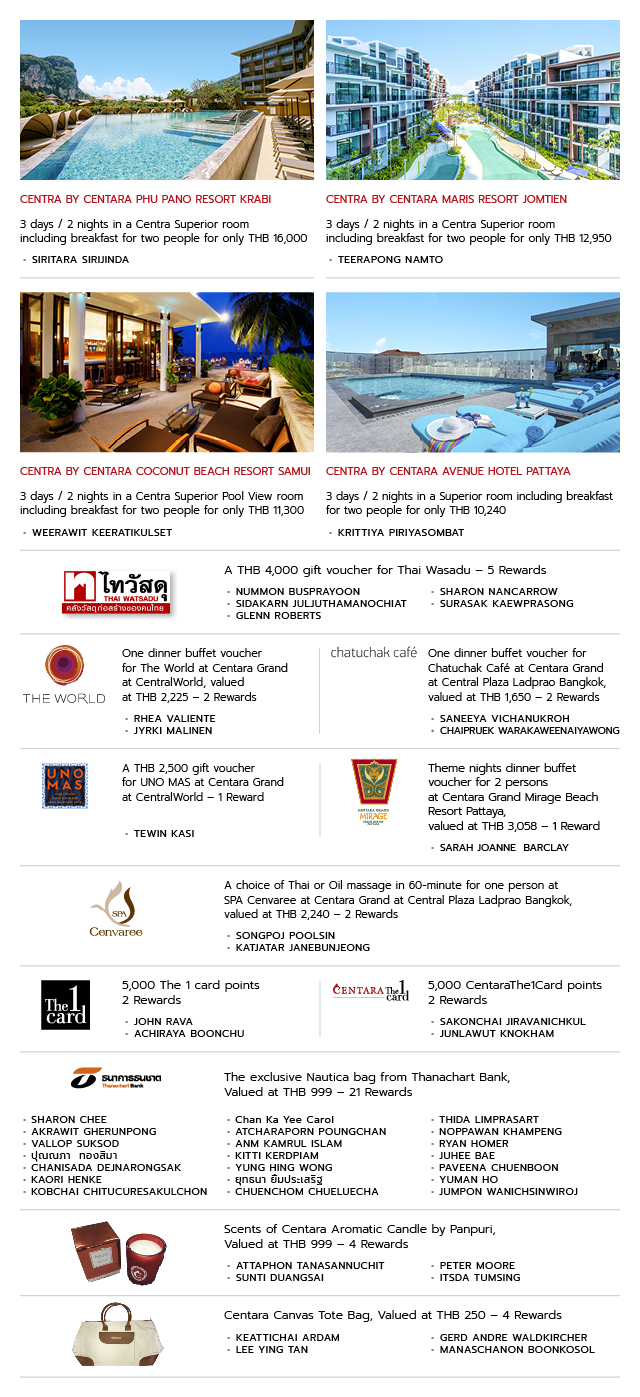 TERMS AND CONDITIONS:
- The winners will be selected randomly by CentaraThe1Card team
- The winners must contact CentaraThe1Card directly on 02 769 1234 or e-mail:
memberservices@centara1card.com
within 31 March 2017 after the winner announcement.
- Participants may redeem unlimited points but are only eligible to win one prize. Prizes cannot be exchanged for cash, credit or any other items and cannot be transferred to other persons.
- Winners must present ID card or passport with CentaraThe1Card or The 1 Card or quote membership number to hotel staff when picking up prizes on the 25th floor at Centara Grand at CentralWorld.
- Winners must have a complete updated profile.
- Winners receiving prizes valued at THB 1,000 or greater will be required to pay withholding tax
*
at 5% (five percent) for Thai nationality and 15% (fifteen percent) for non-Thai nationality of the value of the prize
(*refer to lucky draw or/and other relevant activities by Thai Government Tax law)
.
- We reserve the right to change and modify Terms & Conditions without prior notice.
- In case of any dispute arises, CentaraThe1Card decision related to these matters shall be final.
- Follow us for monthly special events at
www.centara1card.com
OR
www.centarahotelsresorts.com