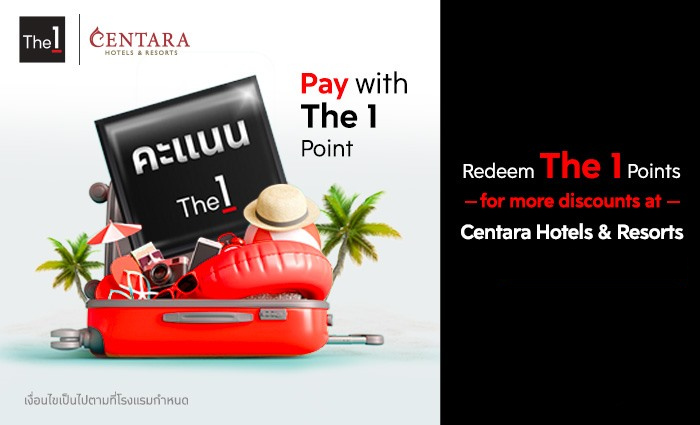 LET Your trip begins with the 1 points
You can now use The1 points to enjoy the exquisite array of world-class restaurant options, as well as accommodation and spa treatments, at select Centara hotels and resorts across Thailand*
Simply show your QR code on The1 application or quote your mobile phone number or ID. card number before making a payment.
Earn every spending 25 THB = 1 point
Redeem 1,000 points = 100 THB discount
*Participating hotels and resorts (as of May 2023)
Bangkok
-Centara Grand & Bangkok Convention Centre at CentralWorld
-Centara Grand at Central Plaza Ladprao Bangkok
-Centra By Centara Hotel Bangkok Phra Nakhon
-Centra By Centara Government Complex Hotel & Convention Centre Chaeng Watthana
Hua Hin
-Centra By Centara Cha-Am Beach Resort Hua Hin
Pattaya
-Centra By Centara Maris Resort Jomtien
Chiangmai
-Centara Riverside Hotel Chiang Mai
Udonthani
-Centara Hotel & Convention Centre Udon Thani
Korat
-Centara Korat
Ubonratchathani
-Centara Ubon
TERMS & CONDITIONS
• Redeem The 1 points when stay, dining and Spa at any participating hotels.
• Show your QR code on The 1 app, or tell your mobile phone number, member ID, or national ID before making a payment.
• Redeemed points are not refundable or replaceable, or transferrable for cash, credit or points under any circumstances.
• Earn points and redeem points are reserved the right for the room, spa and restaurant reservation direct with the hotel only.
• Please check the terms, conditions and more details at the point of sale.
• The company reserves the right to change terms and conditions without prior notice.