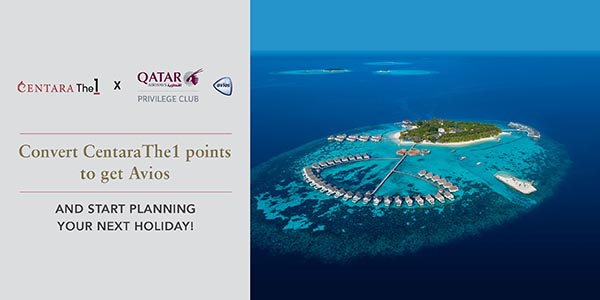 Earn Double Avios and fly faster with Qatar Airways
Earn points with CentaraThe1 and you can be taking off on your next holiday sooner with Qatar Airways.

Centara has partnered with Qatar Airways to enhance your Centara The 1 loyalty programme benefits. CentaraThe1 members can now convert their Centara The1 points to Qatar Airways Avios points. As a new or existing member of Qatar Airways' Privilege Club programme, you can accumulate Avios faster and use them towards free flights, upgrades or extra baggage allowance plus other benefits.

Earn 300 Avios for every 5,000 Centara The 1 points to enjoy a premium flying experience with Qatar Airways faster than you think, and rediscover the joys of travel with Centara, The Place to Be.

And don't forget members of the CentaraThe1 loyalty programme, also enjoy 15% off all hotel rates. If you're not a member, you can sign up for free in less than a minute and immediately start earning points for stays, dining and spa experiences across Thailand, as well as in the Maldives, Vietnam, Sri Lanka, UAE, Oman, and Qatar, as well as airline rewards of course!

TERMS & CONDITIONS
Earning of Avios is only applicable to Privilege Club members
Earning of Avios is only applicable when you exchange CentaraThe1 Points to Avios via CentaraThe1 rewards platform at https://centaraThe1.com/qatarairways
Members must provide their Privilege Club number to Centara when exchanging CentaraThe1 Points to Avios
Earn 300 Avios for every 5,000 Centara The 1 points
No Avios will be added if Privilege Club Membership ID is not provided to Centara upon exchange
Qmiles will be credited within 7 working days from the request of the exchange of CentaraThe1 Points to Avios
Earning Avios will not be applicable to hotel and resort bookings
To transfer CentaraThe1 Points from your CentaraThe1 Card member account to your Privilege Club membership account

Login to website centaraThe1.com
Click on "Transfer my points" under "My profile"
In "Partner box", please select "Qatar Airways" and "Transfer to" box, please fill in membership number
In "Point to transfer box", please fill in your CentaraThe1 points to transfer
Click on "Transfer"
Please review and click "Confirm" as a final step

Once submitted request to transfer CentaraThe1 Points to Avios Rewards Points, Avios Points cannot be cancelled and the CentaraThe1 Points cannot be returned to your CentaraThe1 member account.
Once CentaraThe1 Points are transferred they are subject to Privilege Club terms and conditions.
Centara Hotels & Resorts reserves the right to change these terms and conditions without prior notice.
For more information or for further assistance with your booking you may contact member services at memberservices@centara1card.com or +66 (0) 2102 1234